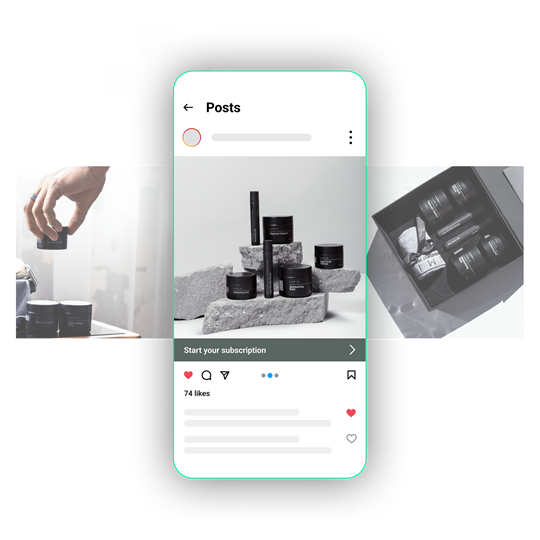 Paid Social
When used correctly, Paid Social can be a powerful marketing channel. It is often used to display a variety of advert formats from text to image and video to carousel. Primarily aimed at showcasing sponsored messages to social network users based on user profile and browsing habits.
Businesses are charged at different points depending on the objective (or algorithm) they have decided to build their strategy and campaign around. From this, Paid Social can be usilised to achieve a host of business objectives from brand awareness to create future demand, build website traffic with relevant users and gain conversions (enquiries and purchases).
Ensuring Paid Social is done right
Paid Social is one of many channels that can be optimised to grow your visual identity through the mediums of creative design and messaging. Whilst creative is often seen as the forefront of any social strategy, our seasoned teams are data-driven to ensure the best optimisations and decisions are being made at the right time. This is done through analysing pixel data and monitoring industry trends.
How can cab engine help you?
Our in-house Paid Social experts specialise in match-making audiences that suit and can deliver your objectives. From building lookalike audiences to granular targeting to retargeting, our in-depth strategies have helped businesses achieve growth not only in the UK but across the globe.
By utilising the latest automation, artificial intelligence (AI) and natural human intervention, your campaigns are continuously optimised ensuring not only success, but valuable insight is gained.
Strategy
The strategy phase is where the team will begin molding and drafting the most suitable roadmap to achieve your business KPIs. Leaning on research and insight to direct all short term and long term actions. The deliverable will allow you to foresee how we take the business from where it is today to how it will achieve its objectives.
Creative
This is where we will hand over the strategy and roadmap over to the creative team to begin bringing the campaign to life. This is where ideas from not only the team but the business and brand will be executed. Creating highly engaging and exciting content is where our professional designers excel. Drawing all attention to your ads to allow for maximum reach and exposure.
Management
With the strategy and creative in place, the campaign is handed back over to the performance team to build and launch. Connecting all the dots taken from the initial research and insights to pull together the optimum targeting sets.
Reporting
Whether you are looking to report at the end of each campaign, month or quarter, our team have you covered. Having a completely unique and customised dashboard, focused on every key metric which matters to the business. The team will consult with all relevant stakeholders both monthly and quarterly to provide direction and guidance on campaign focus areas and new optimisation methods.
Future demand
Whilst both a prospective and retargeting strategy can be executed on paid social, the former is often utilised to build interest and create future demand for a product or service. For many clients, paid social has provided the ideal platform for social proofing - reinforcing customer decisions and acquiring brand equity along the way. These elements can subsequently be utilised to deliver the appropriate narratives for users on their journey, with the ultimate aim of repeat purchase and ultimate brand loyalty.
Why is social media advertising important?
When implemented in the right way within the correct strategy, social media ads can become a powerful channel for any business. In contrast to the rumours whereby Paid Social is only relevant for 'brand awareness' purposes, the platforms available within this day and age are excellent for growing businesses through sales. With the rise of social commerce, more and more users are now discovering new businesses and products on social platforms and not being afraid to purchase.
Most social platforms today have their own 'pixel', which in essence is a snippet of code that a business can place on their website. The purpose of the pixel is to allow businesses the opportunity to collect relevant performance data from conversions to website interactions. The pixel can also be a tool to help build direction towards what optimisations are needed. It is also essential if the business is looking to build retargeting audience lists.
Is social media advertising relevant for both B2C and B2B?
Paid Social is a tool that can work for a variety of different objectives, which can satisfy those that sit within either B2C or B2B businesses. It is with utmost importance that the campaign goals, strategies, creative and content are built towards each business. Each of these different elements will have a significant impact on how customers perceive and react to each campaign.
Other Digital Marketing Services we offer
As well as Paid Social, we offer all the digital marketing
services needed to get your business seen including
PPC, SEO, CRO, UX, and more. By combining
multiple channels, you can ensure your brand is seen
by the right people, at the perfect time.
Kickstart a conversation
We'd love to understand more around your business needs and challenges. Our promise is to excite your mind and create a collaborative partnership driving your business forward - whilst having fun along the way. We look forward to hearing from you.