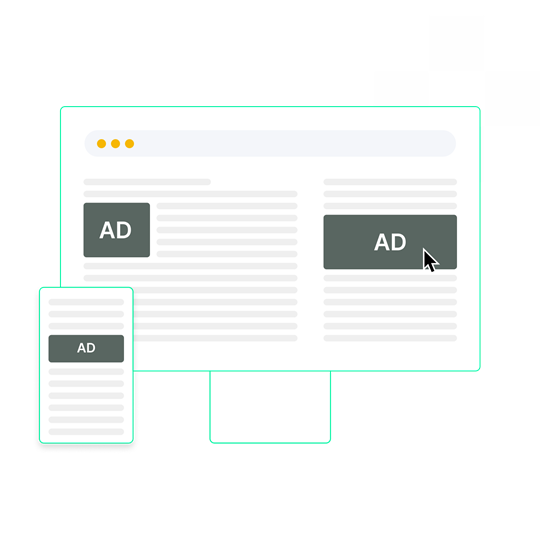 Display Advertising
Over the years cab engine have helped businesses across many different industries achieve their objectives by launching or incorporating a high-impact display campaign. This is achieved by creating a suitable display strategy, designing the right creative and showcasing on relevant placements.
Display advertising can be used in a multitude of ways, however most success is found through two common methods of implementation. Direct Response and branding. Whether you are searching for a user to take a certain action or want to improve the awareness levels of your brand, cab engine can help build an appropriate display strategy.
Ensuring display advertising is done right
Whilst many people out there believe Google Display Ads are only effective for larger, enterprise-level businesses, they are capable of fulfilling the objectives for those with smaller budgets also.
The Google Display Network is able to hit a high number of relevant prospects at different stages of the marketing funnel and customer journey. This also covers both websites and mobile apps.
Even when attempting to compete with large global businesses, all brands can benefit from having their brand known by possible future customers. Consumers don't purchase from brands they can't identify.
How can cab engine help you?
The performance marketing team at are highly effective at targeting both prospects and customers at each stage of the marketing funnel. Prospective display campaigns are a sure way to deliver influential creative which drives both engagement and awareness, more so to those customers who are in-market. Example channels in which the cab engine team would recommend are as follows:
Google Display Network (GDN)
Knowing your audience and understanding their behaviour is the first point of call for any digital display campaign. Alongside launching high-impact and hard-hitting creative, our display team will ensure your ads are presented on sites where your audience are browsing or better yet, taking action.
Google Discovery
Whilst Google Discovery does cover an element of display there are also other elements at work which can pull over your best performing text ads from your Paid Search campaigns. This format is perfect for businesses looking to increase their general exposure and target a mass audience.
Gmail
Utilising Google Sponsored Promotions, your display campaigns can reach those who are active within their inbox. Unlike the position of display ads on some websites or placements, this channel will ensure your ad is seen at the top or side of the user's inbox.
Video Display
The display and performance teams are able to expand your campaign's reach much further than the channels mentioned above. If you are looking to compliment your digital display campaign with video then VOD, Video display and Connected TV, are perfect at bringing your campaign to life.
What are the different levels of targeting?
When it comes to personalising display ads based upon the users and where they currently sit in the marketing funnel, there are four targeting options by which a business can optimise towards: Affinity targeting, Custom affinity targeting, custom intent and in-market.
What is the difference between display ads and native ads?
Native ads are specifically created with the placement front of mind. These ads blend into the content of a page. These ads can often appear to look like regular posts of that publication. Bearing in mind it is a legal requirement to display the term "sponsored".
Whilst native ads are great for engagement, it is often found that the end product or conversion rate is lower due to the user not being over familiar with the ad and realising they didn't want to purchase or read more. This can also be seen as an additional con when brands hide their logo, paying for Impressions but ultimately failing to build upon brand recall.
Is HTML the optimum display advertising format?
Static banners have been around since the internet began, these formats are built using .jpg and .pngs. Since Google put a stop to Flash banners, HTML5 was born, therefore taking precedence over most banner formats gaining the highest forms of engagement.
Other Digital Marketing Services we offer
As well as Display Advertising, we offer all the digital marketing services needed to get your business seen including PPC, Paid Social, CRO, UX, and more. By combining multiple channels, you can ensure your brand is seen by the right people, at the perfect time.
Kickstart a conversation
We'd love to understand more around your business needs and challenges. Our promise is to excite your mind and create a collaborative partnership driving your business forward - whilst having fun along the way. We look forward to hearing from you.